Choristers receive a first-class musical education and experience performing to the highest of standards in one of Britain's most treasured buildings.
The Durham Cathedral Choir consists of 24 girl and 24 boy Choristers who sing alongside the 12 ladies and gentlemen of the Choir. The majority of the Choir's singing takes place during the daily worship of the awe-inspiring Durham Cathedral. However, the Choir also takes part in concerts, recordings, live broadcasts on the radio and television, and international tours.
All Choristers attend Chorister School and Durham School, where they receive a discounted education as either a day pupil or boarder.
Alongside their commitments to the choir, Choristers are able to participate in the extra-curricular activities that both Chorister School and Durham School have to offer.
Take a look at the information below and learn more about what life is like as a Chorister...
---
Life As A Chorister: Samantha Johnson
"One day, our Headteacher approached my Mum and told her I was very enthusiastic when singing the hymns in assembly and recommended that I join the choir.
"When I was considering becoming a Chorister, I went to a Chorister Experience Day. This is a fun day out hosted by Durham Cathedral Choir where anyone in Years 2 to 6 can come and see what it's like to be a Chorister.
"At the Evensong, I remember being taken under the wing of an older pupil who would be Head Chorister next year. She showed me where we were in the music and made sure I knew when to sing and when not to. Now every term when the choir hosts a Chorister Experience Day, I try to take someone under my wing and do for them what that girl did for me because I know how much that meant to me and that it was a big part of why I became a Chorister.
"Last Christmas I was given the Once in Royal David's City solo. This solo is only done three times every Christmas. I remember very clearly walking into the Cathedral, shaking with nerves, standing at the back with the rest of the choir and waiting in great anticipation for my time to start. After what felt like forever, Mr Cook gave me a nod and gently hummed my note. I took a deep breath and sang the first verse. As soon as I started, I got lost in the music I stopped shaking and just sang it like I had practiced.
"It amazes me that one simple sentence from a School Headmaster could change my life completely and send me on a journey of musicianship.
"We sing for 15 hours a week but there are, of course, other things that I do in my weekly life. I spend a lot of my time doing homework and music practice for instrumental exams. I play saxophone, flute, and piano. I also have a guitar, banjo, ukulele, and violin which I play for fun. I also play a lot of sports including hockey, netball, cricket, and athletics. Outside of school, I take part in water polo, running, and swimming."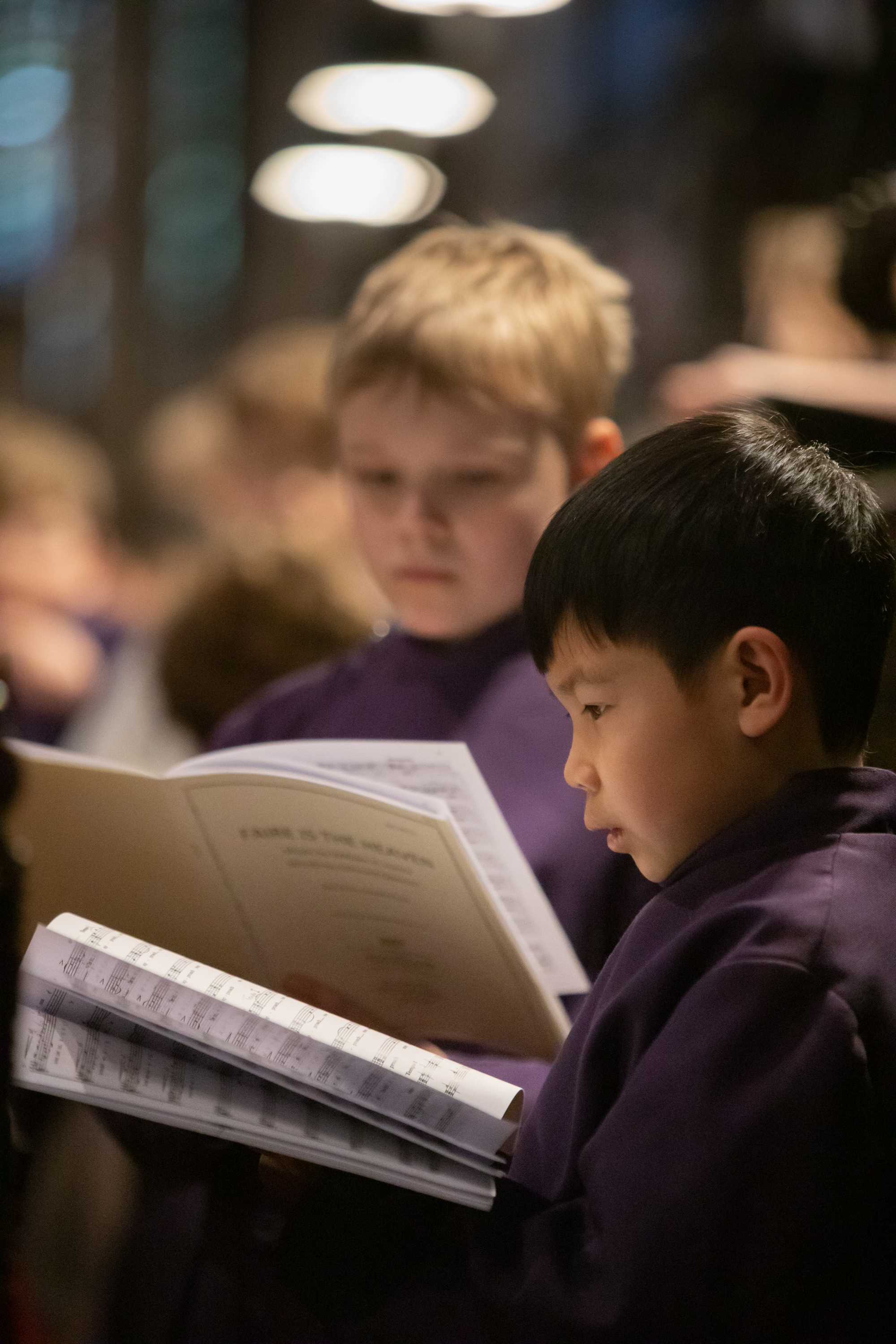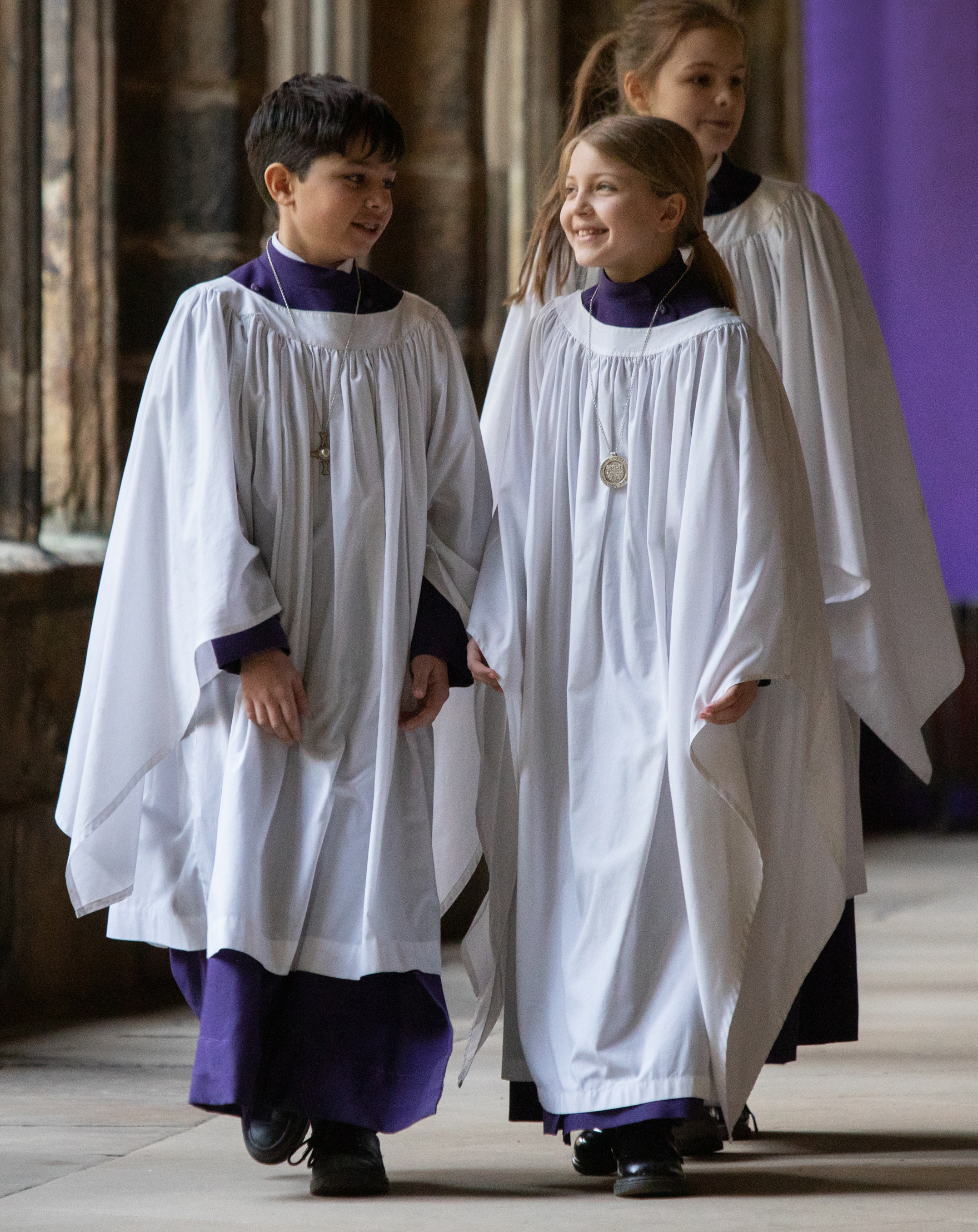 Becoming a Chorister at Durham Cathedral
Step 1: Informal Voice Trial
The first step is for your child to come and sing to the Choir Master, Mr Cook. If Mr Cook is happy with the informal voice trial then you can move on to a formal assessment, which takes place during the school day.
Step 2: Voice trial and a day at DCSF
Any prospective Choristers who aren't already pupils at DCSF will need to come for a trial day at the school which also includes some academic tests and a boarding trial (optional). The day starts with joining the Choristers for morning choir practice and ends by singing Evensong with the choir.
Step 3: Starting as a Probationer
If your child passes all the assessments for both the choir and school, then they can start as a Probationer. Probationers only sing on weekdays during term time.
Step 4: Becoming a full Chorister
When Mr Cook feels your child is ready, Probationers are promoted to full Choristers. When a Probationer becomes a full Chorister, they are given a white surplice to wear in a special ceremony. This is a moment they will remember for the rest of their life! They then start to follow the full timetable including singing at weekends and for special occasions like Christmas and Easter.
Interested in your child becoming a Cathedral Chorister?
Enquire here and the admissions team will be in touch as soon as possible.
Future Chorister Experience Days:
3rd February 2024

11th May 2024